Photo credit: Bomboniere By Maria
How to incorporate floral style favours into your wedding day
When we think of floral, we may think vintage, country cottage, outdoor rustic style. And yes, I agree you can't have any of these themes without flowers and lots of them too. Flowers are used at all weddings whether it's an elegant top London hotel wedding using soft neutrals, or bold statement colours, sumptuous candelabra and lighting to the rustic floaty outdoors.
Photo credit: www.purplerosephotography and www.leerushbyphotography
Here at Bomboniere By Maria, my signature style is floral. I use flowers to decorate most of my favours. This stems back to the age old tradition that favours or bomboniere as they are know in Italy, France and Greece were always given to the lady of each household, so they have always been very feminine in style. Nowadays, these styles are changing to accommodate the changing lifestyle we live and making sure we have something suitable for the male guests too with lots of couples choosing to give one per guest as table favours and also doubled up as place names too.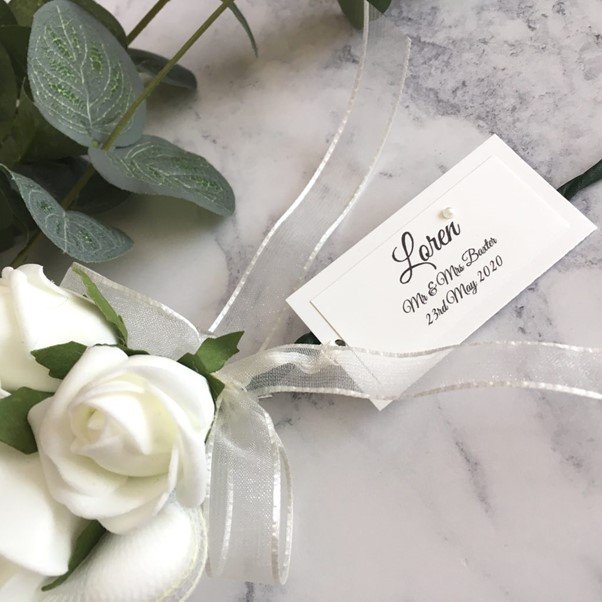 Photo credit: Bomboniere By Maria
How and when to choose your favours
My advice to my couples is to research in advance, even up to 1 year to make sure you get your preferred supplier. If you like their style and you know you want them to design something for you, book them. The way I work, is, I have a consultation with my couple or generally the bride when it comes to favours and fine details, either over the phone or a face to face. I want to know what flowers they are having at their wedding, the venue they are getting married at and their colours. This gives me a feel of their day, style and personality to help me to create something that will match and sit comfortably on the tables.
Some people think these are just small details and often leave to the last minute, but it's these details that get people talking and create interest at your wedding. I also suggest matching your favours to your wedding stationery. Your guests will get a glimpse into your day from the moment they receive your invitation, so to see the matching favours, colours to your table stationery too, is a really lovely touch and ties everything in beautifully. Let's face it, who doesn't want to have a pretty favour box filled with sweets waiting for them as they sit down!
To find out more about what I do and how I can help you add the finishing touches to your day, pop on over to: www.bombonierebymaria.co.uk or give me a call on 07946 194 124.