If you are getting married in a beautiful venue, how can you incorporate this into your stationery? Most buildings used for wedding ceremonies and/or receptions have beautiful characteristics, which is what potentially drew you towards them in the first place. You may want your guests to get a glimpse of this before the big day to show them how special it is, so why not incorporate the building into your stationery. Read on for some venue related design inspiration……
Foil silhouette
This works particularly well for churches or venues with a distinctive shape. The silhouette can be incorporated on the front of a standard opening card, a pocketfold, or a bundle of cards wrapped in vellum. Gold, rose gold or silver foil can be used.
Vellum overlay
An image of the venue (either black and white or colour) is printed onto translucent vellum and placed as the top layer of a bundle of cards. You could even then incorporate the church as a foil silhouette on the panel behind.
Hand-drawn image
A great option for a more informal style of invitation or something a little quirky. This would also work well for tipi or barn style weddings. Other elements on the invitation can also be hand-drawn to tie in to match the style such as the pocket watch, aeroplane and villa in this example here….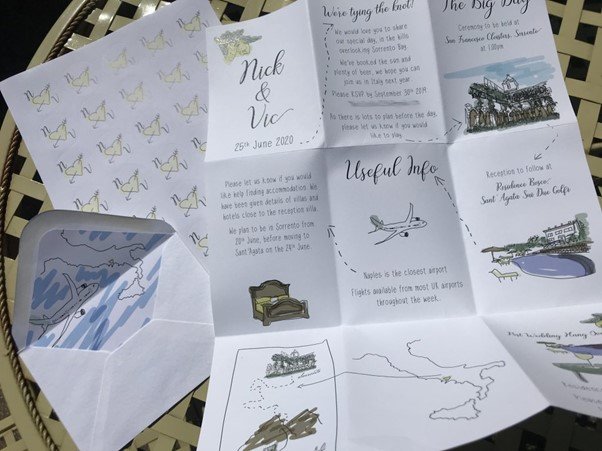 Don't hesitate to contact if you are interested in incorporating your venue into your stationery, to see how we can help you.