Image courtesy of TTS Media
David Attenborough recently broke records when he joined Instagram to further his message around saving the planet. It is clear that so many of us care deeply about preserving the world. However, sometimes it can be hard to know how to put this into practice, especially at events like weddings.
Couples are often very conscious of the amount of paper that features in a wedding. Save the Dates, invitations, Orders of Service, and table setting stationery are often traditionally card and paper products. This can cause a headache for eco-conscious couples, but at Polka Dot Creations we have plenty of beautiful, sustainable options.
What can you do as a couple?
In the first instance, you can ask your wedding stationer to source and use FSC Certified products. The Forest Stewardship Council (FSC) is a not-for-profit organisation that promotes responsible management of the world's forests. Immediately you'll have peace of mind that your wedding stationery comes from responsibly sourced wood fibre and manufactured with water quality protection.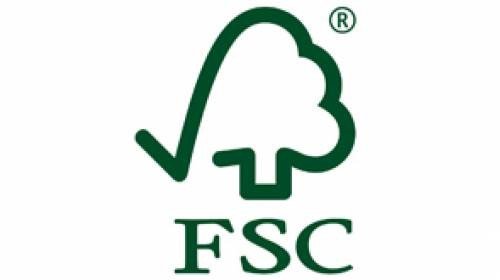 Check that materials used are FSC Certified.
Polka Dot Creations has access to a wide range of FSC Certified materials from the traditional to quirky and contemporary.
Secondly, you should look to avoid certain materials. Some coated cards such as glitter and mirror cards are not currently recyclable. Ask your wedding stationer or get in touch with us for advice on which products are best to use.
What options are available?
Paper
There are some really exciting papers available that come from very unexpected sources!
Did you know that paper can now be made from banana skins? Using the fibrous skins creates a fantastic printable surface and eliminates food waste. Banana skin papers can be a wonderful addition to ceremonies embracing a taste of the exotic!
And if that surprises you, how about paper made from… poo! And not just any poo – there are now eco-friendly papers made from elephant and reindeer poo. Being herbivores, these animals have very fibrous dung that can be blended with recycled paper to form new material. (If you're worried, the papers are entirely odourless!) Elephant paper can be as much as 75% dung and is becoming an increasingly popular pick from fun-loving couples.
From left to right: ellie poo paper and banana paper.
Cotton
Cotton rag paper is a popular choice of alternative paper that has a range of rough and smooth textures. Handmade in India, long cotton fibres are taken from garments such as cotton t-shirts. The fibres are blended into a pulp that is moulded into individually dried sheets of paper. This method recycles cotton bi-products from the textiles industry, and is available in a range of shades.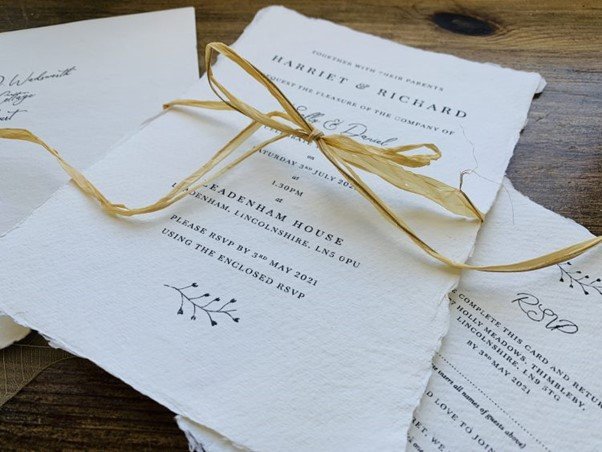 Cotton rag paper.
Flowers, Seeds and Leaves
Handmade paper has reduced manufacturing intensity and can come with added details such as embedded seeds. Polka Dot Creations uses air-dried seed papers that protect the grass and wildflower seeds within. This drying process makes the paper plant-able and is a thoughtful gesture that guests can take home to remember. We can provide planting instructions to ensure your guests have beautiful flowers as mementos of your day in their gardens.
Papers can also include pressed flowers and petals, adding beautiful touches of colour and texture. These papers are perfect for rustic ceremonies and bohemian countryside weddings.
Handmade seed and petal papers. Image on right courtesy of Dani Louise Photography
Polka Dot Creations also offer skeleton leaf place cards. Delicate skeletons of leaves sit below handmade torn-edge paper with raffia ribbons to create an entirely natural name card. These elegant and intricate place cards are a wonderful detail to add to seasonal table designs. For some additional formality, we can incorporate organic silk ribbons for a sense of relaxed luxury.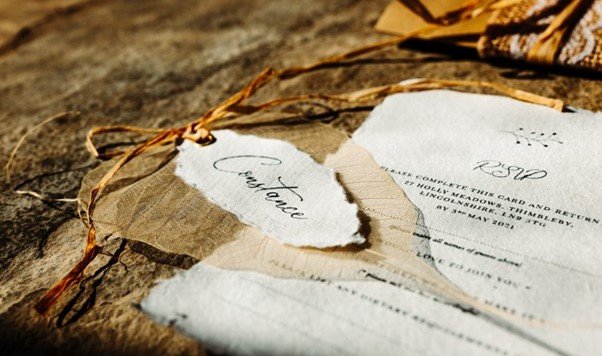 Delicate skeleton leaf place cards. Image courtesy of TTS Media
Fabric and Ribbons
If paper is a product you want to minimise using, there are natural organic fabrics you can opt for instead. Polka Dot Creations can make hanging banners out of fabrics such as organic calico and natural linen. The banners are popular welcome signs and can feature the order of the day to let guests know timings. They can also become table plans and hang at the entrances to reception rooms throughout your venue.
Organic calico fabric hanging banner. Banner adorned with foliage. Image on right courtesy of James Green Studio
Ribbons can often feature throughout weddings, including invitations, Orders of Service and in bridal bouquets and corsages. At Polka Dot creations we can provide organic hand-dyed silk ribbons that fit with your colour schemes or what about natural raffia?
Frayed edge silk ribbon. Natural raffia bow.
Wood
Wooden invitations are another eco-friendly way to invite your guests to your wedding. It's a natural product made from a renewable resource therefore, it is one of the most environmentally friendly products that you can incorporate into your stationery. Or why not use recycled wooden pallets to display your table plan, welcome sign or order of the day, for example?
Wooden panel invitations.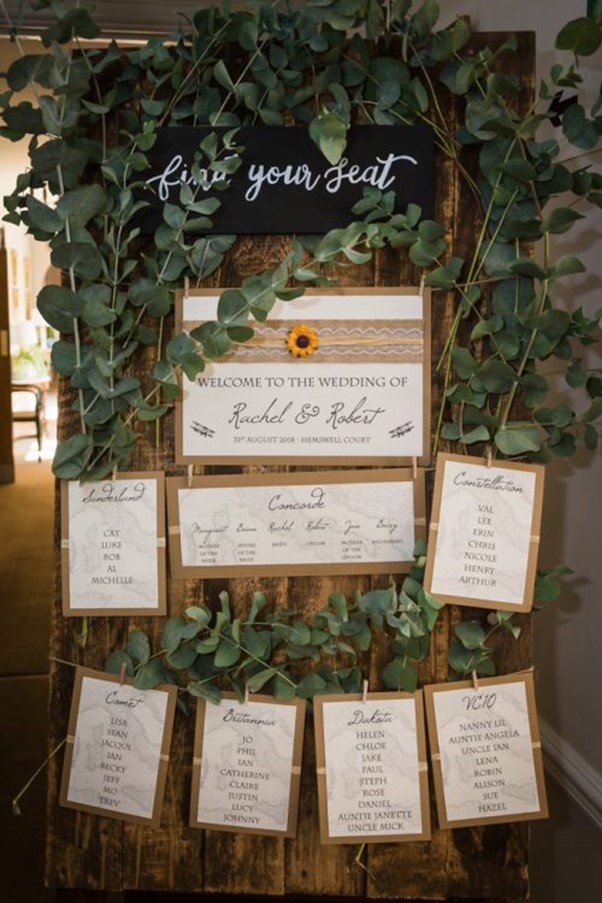 Wooden pallet used for table plan.
Further information regarding sustainable weddings
If you are keen to really find out more about sustainable, zero-waste weddings – not only related to stationery but all elements throughout your day, then click here to read this really useful guide. It covers topics such as ethically sourced precious stones for your rings, eco-conscious wedding attire, organic and low-impact flowers, eco-friendly decor and much more.
Get in touch!
As you can see, it is entirely possible to minimise your impact on the environment, while still having a big impact in style! Please contact us if you would like more information on any of the products we have shown you today.
All images of stationery are products created by Polka Dot Creations.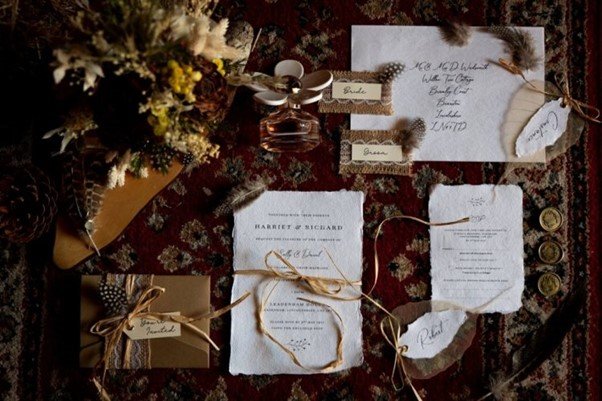 Image courtesy of TTS Media. Image courtesy of Dani Louise Photography.
Image courtesy of Dani Louise Photography