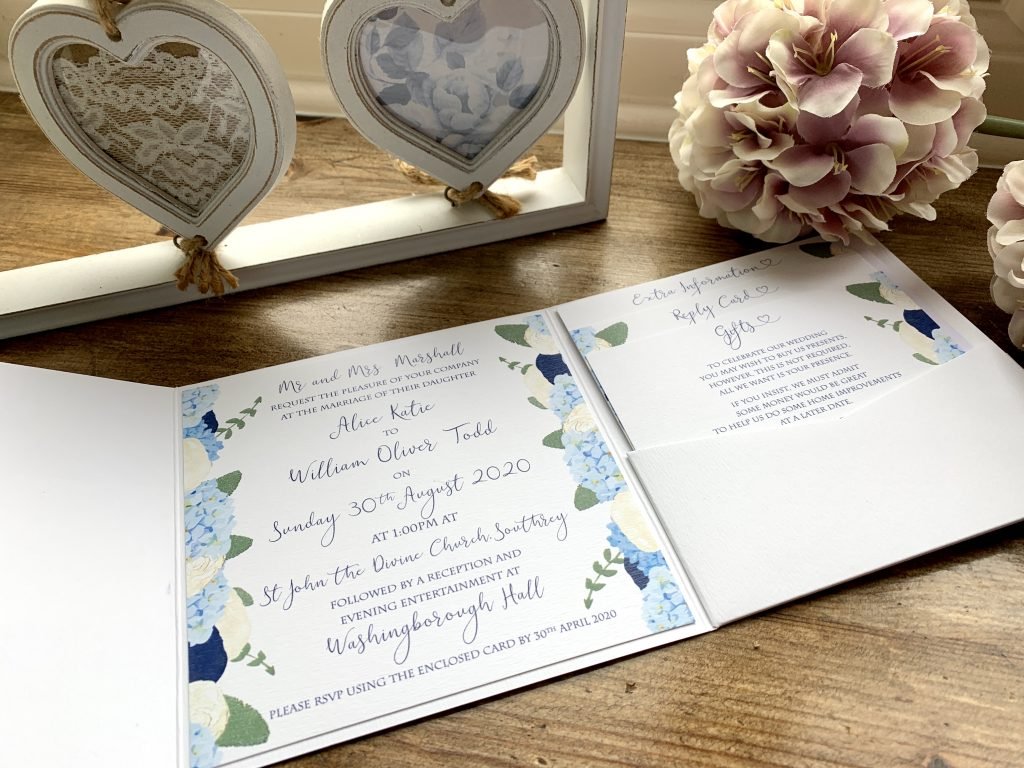 Wedding stationery – Save the date cards
As soon as your venue is booked you should think about whether you want to send out Save the Date cards. These are just a little way of ensuring your guests book the big day in their calendar. It is not essential but I would always recommend if your holiday falls in a main holiday period so that people can avoid booking a holiday around your wedding date.
Wedding stationery – Your invitations
Your formal invitations should include all the details of your ceremony and reception. You should start with who is hosting your wedding. Traditionally, this was always the bride's parents but nowadays I often see both sets of parents included – for example:
"Mr and Mrs Smith and Mr and Mrs Jones formally invite you to the wedding of Bride and Groom's full names." ………etc
Or if it is yourselves hosting the wedding then you could include a reference to your parents – for example:
"Together with their parents, Sarah Smith and David Jones request the pleasure of your company………"etc
Or it can just be the two of you hosting the wedding:
"Sarah Smith and David Jones request the pleasure of your company as they celebrate their marriage………"etc
You would then need to include the ceremony venue details, location and time and then the reception details/venue (should your reception be in a different place to the main ceremony).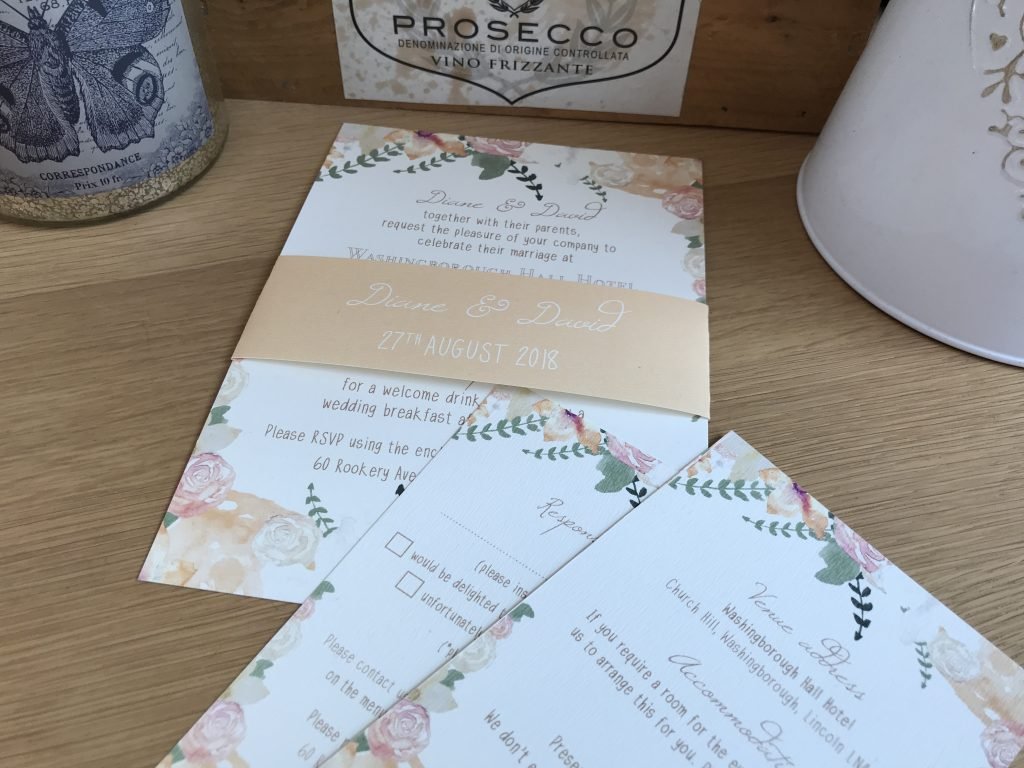 Other stationery to include with your wedding invitations
Couples often need to include at least one extra information panel along with their main invitation. This can be a menu (should their guests have to choose from a menu before the big day), or accommodation information. For example, if their venue has a preferential rate for wedding guests this can be mentioned. Or a list of alternative, local accommodation should the venue not have many (or any) accommodation options.
It is also common to include information about gifts. People are sometimes a little nervous about asking for money or honeymoon fund donations. I would say 95% of my clients do include a note about this. I have lots of honeymoon fund or money request poems which can help you decide how to word it the best way!
An RSVP card is really useful to include (preferably with a self addressed envelope) to ensure you make it easy for your guests to send these back to you or your parents. Your RSVP should have a dotted line for the guests to complete their names and a tick box to advise whether they can attend or not. If you have included a menu card with your invitations then the RSVP should also contain boxes so that they can tick their options. For example this could be a meat, fish or vegetarian option. You should also include a section for the guest to handwrite any dietary requirements.
Directions cards used to be popular but with the ever-increasing usage of Sat Nav and Google maps, these aren't often included nowadays.
Some other ideas of information you may want to include could be a section on the RSVP for the guest to enter a music/song choice that will guarantee to get them on the dance floor!
Wedding stationery – On-the-day stationery
Don't forget, you will need stationery for the wedding day itself. Items such as:
– Order of ceremony booklet or cards.
– A table seating plan.
– Table names or numbers – one for each table to help guests find where they are seated.
– Individual place cards to mark each guest's place setting.
If your guests have not had to select a menu choice beforehand then some venues and caterers may include menu cards for each guest, or you may wish to create your own so that they are in the same style as your wedding stationery.
If you don't want to have the extra cost of one menu card per person, consider a large menu printed or handwritten and placed by the dinner area. There are lots of creative ideas of how you can display your menu at your wedding.
Other stationery ideas
– A large "Welcome" sign at the entrance to the venue.
– Thank you for sharing our first meal as Mr and Mrs XXXX tags (one placed on each place setting).
– Order of the day board (to give guests a time line of what is due to happen at what time throughout the day – not that this always goes 100% to plan!) Or if you are opting for a summer or destination wedding then order of the day fans are a great choice (see image below)!
– Signs around the venue – for example, signs to point out where the guests should leave gifts and cards, a sign asking guests to sign their guest book, an "In loving memory" sign (to remember those who are no longer with us), a fun "Rules of the dance floor" sign, a "Choose a seat, not a side" sign (advising guests that they can sit wherever they like in the church/ceremony room). The list goes on!
– Favour tags or stickers – if you are presenting each guest with a favour you can get really creative with ideas. Stickers for favour boxes or tie on tags personalised with your names and wedding date. You might wish to include a personal message such as "Thank you for sharing our special day" followed by your names and wedding date.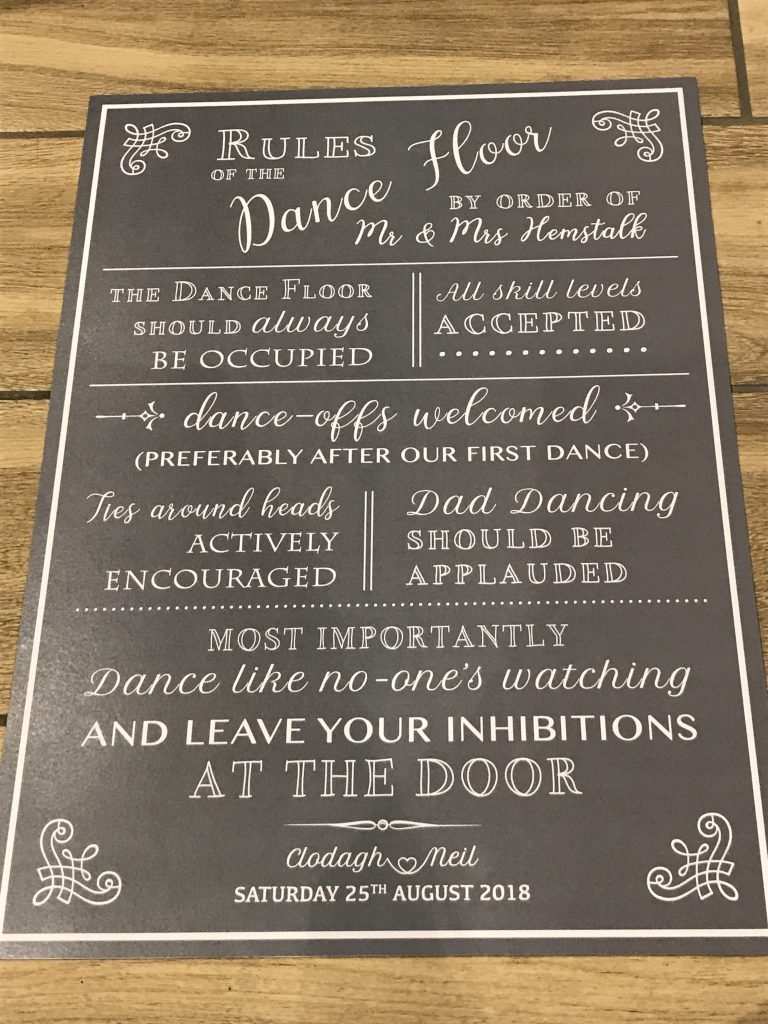 Wedding stationery – Thank you cards
Generally thank you cards should be sent out about 2 to 3 weeks after your wedding with your guests' names, an appreciation of the particular gift they gave you and if you can include a photo from your wedding day then that is a lovely touch. One tip is to have a photo taken at your wedding holding up a Thank You sign or banner which could then be used on your Thank You cards.
Don't forget……..
The stationery can sometimes get overlooked when you are putting your list together of photographs for your photographer to take. Make sure to take a spare copy of the invite to the wedding so that this can be photographed alongside all of the other table stationery items. You could ask your photographer to perhaps take a flat lay photograph of your stationery alongside other items such as your flowers or the cake.
Finally
Remember that this is YOUR day. The information above is just to guide you with what stationery items you may or may not need. Having had over 10 years of experience creating wedding stationery, we can discuss your day and I can guide you in what you might need. Please feel free to contact me with any questions you may have or if you would like to arrange a free, no obligation consultation.